Nordkalk's soil stabilisation product family expanded in the beginning of 2022, when Nordkalk Terra GREEN was launched. The product consists mostly of circular raw materials. The carbon footprint of all Nordkalk Terra products is about to become smaller, when a new low-carbon cement, CEM III, replaces the current cement in the products.
"Product development is based on customers' requirements, of which a small carbon footprint is one of the main ones. It is an important purchasing criterion nowadays,"says Key Account Manager Kari Kuusipuro, who is responsible for Nordkalk's customer segment Construction.
Finland plans to be carbon neutral by 2035, and many companies and public actors have set even more ambitious goals. For example, the city of Vantaa aims to achieve carbon neutrality already in 2030, and all sectors in the city are working towards this binding goal. In construction, the circular economy plays an important role in reducing carbon dioxide emissions; in soil stabilisation, side streams have been utilised for quite some time already.
"There is a lot of construction going on in Vantaa. Soil stabilisation projects take place continuously, because stabilisation is such an essential part of infrastructure construction. We have several development projects underway to reduce emissions in construction, such as the testing of stabilisation binders currently underway in the Myyrmäki area. It is gratifying to see the suppliers develop their own product range and offer new low-carbon solutions," says Heikki Kangas, Geotechnical Manager of Vantaa.
All Nordkalk stabilisation products are partly circular already now because the cement in them includes blastfurnace slag, a side stream from the steel industry. The carbon footprint of the stabilisation products will be reduced further during the coming year, because Nordkalk is planning to exchange the current cement for the new CEM III cement, which was launched by Finnsementti in the autumn of 2021. In addition to being low-carbon, CEM III has a high standard strength of 52.5.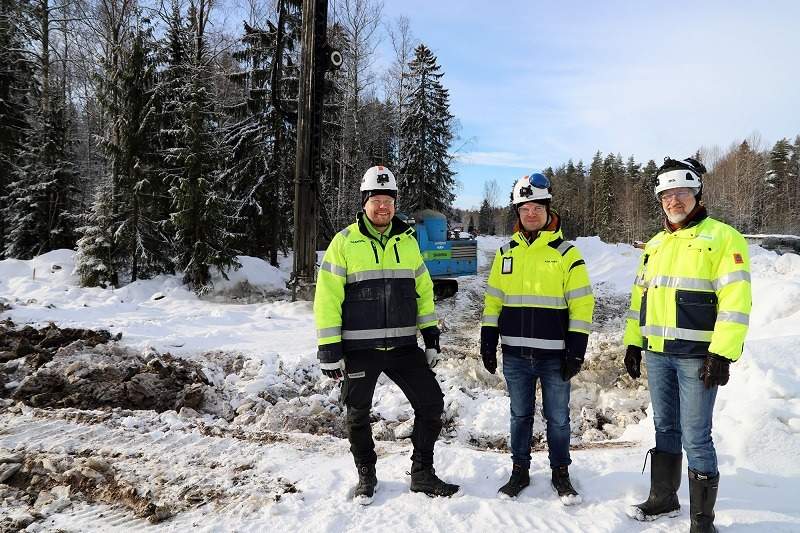 In the Myyrmäki area of Vantaa, an extension will be built to the road Luhtitie, to serve as a future public transportation route. The foundation of the extension is stabilised by the company Skanska Infra Oy. Juha Tiensuu (left) and Niko Asikainen were greeted by Nordkalk's Kari Kuusipuro (right).
Product chosen according to application and soil
Soils are stabilised in order to reinforce the foundations for construction. Nordkalk has decades-long experience in soil stabilisation with lime-based products, which traditionally consist of calcium oxide and cement. This is the recipe for Nordkalk Terra KC products, known as reliable and versatile basic binders.
The choice of a stabilisation product depends on the application and soil type. Nordkalk Terra GTC is suitable for stabilising demanding organic and sulphide clays, but generally it works in regular clay. The product recipe contains cement and gypsum, and a circular product that is left over from making hydrated lime, resulting in a carbon footprint that is 74% smaller than that of the KC50 product.
In Nordkalk Terra POZ, 43% of the mix is recycled material. In addition to calcium oxide, the product contains LKD, which is reactive lime dust from the lime burning process, and a cement including slag. This recipe was developed as early as the 1990s, when the selling point was the low price enabled by the use of side streams. In recent years, Nordkalk Terra POZ has experienced new interest with the rise of circular economy.
The new product Nordkalk Terra Green, when mixed with CEM III, consists of 70% side streams. The main ingredient is LKD. The product is suitable for easily stabilised clay soils, and stabilisation tests are underway to gain experience of its suitability for more demanding soils.
Continuous product development and testing
Nordkalk is engaged in continuous product development and in projects to test various binders. In Vantaa, an extension of the road Luhtitie is stabilised with Nordkalk Terra GTC, which has the smallest carbon footprint of Nordkalk's stabilisation products. In connection with the stabilisation contract, a test field has been started with columns of Terra GREEN, KC 20 and GTC, all mixed with the new CEM III. The first results are expected in March, and based on the earlier laboratory tests, expectations are high. Once the test is over, the area will be turned into a parking lot.
A project known as CircVol 2 will continue in the Turku region. It promotes the reuse of high-volume material masses and industrial side streams in cities' infrastructure construction. Nordkalk will participate in a field test in which the easily sinking clay soil of the Topinpuisto area in Turku will be stabilised. The field test is a continuation of last year's laboratory tests.
Nordkalk also participates in a programme called UUMA4, which promotes the use of recovered materials in groundworks by turning them into commercial products.
"One task is to establish rules for product approval. When new binders are introduced, there must be clear criteria for ensuring their environmental acceptability," says Kuusipuro.
Lime-based side streams are clean, environmentally acceptable products that have been used in stabilisation products since the 1990s. They are used and have been used, for example, for soil improvement and in industrial water treatment.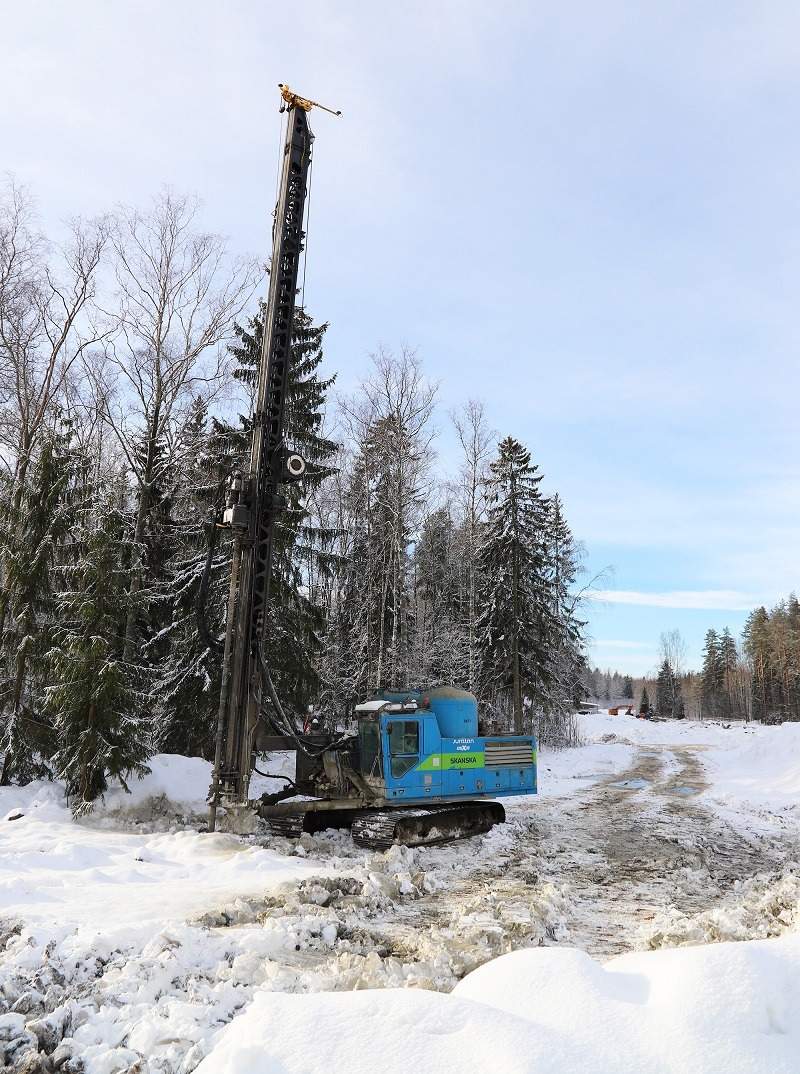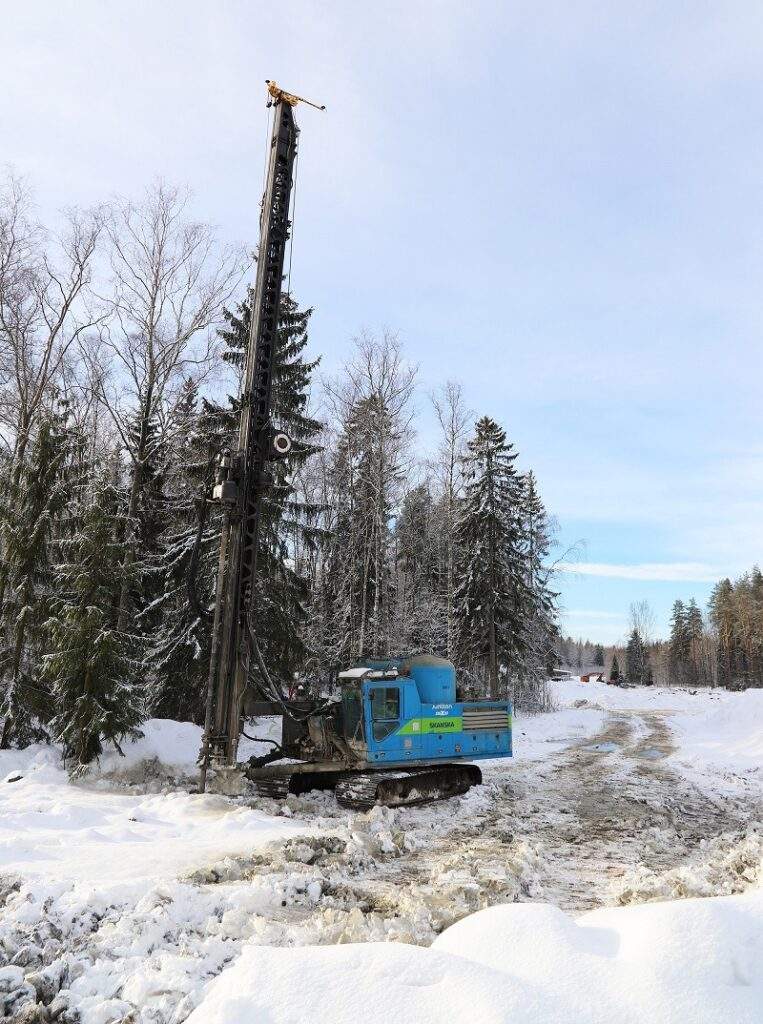 A lot of construction is going on in Vantaa, and soil stabilisation projects take place continuously. The column stabilisation method and the low-emission product Nordkalk Terra GTC are suitable choices for the clayey conditions of the Luhtitie extension.
Emissions trading shows in the price
In addition to environmental benefits, pricing supports circular stabilisation products. The cost of ETS (emissions trading system) is reflected in products containing calcium oxide.
"Since the beginning of 2022, the product price and CO2 price are shown separately on Nordkalk's invoices. The share of emissions trading is updated quarterly in accordance with changes in the price of emission rights. For example, the price of Terra KC 50 rose by 22.4% at the turn of the year," says Kuusipuro.
Due to emissions trading, circular economy products are increasingly competitive. On the other hand, products without a "climate addition" cross the EU's eastern border and enter the Finnish market. Kuusipuro is confident that the end users of stabilisation products are aware of the situation, as all organisations are beginning to have clear environmental goals to reduce emissions.
Kuusipuro's assessment is supported by Heikki Kangas: "The reduction of emissions from infrastructure construction is progressing rapidly in Vantaa and in neighbouring cities. Environmental awareness is growing, as are expectations towards suppliers. The next step in procurement may involve scoring emissions or setting emission limits for products."
Text: Anne Foley, photos: Jenni Westerlund